The Cinema - Newton Stewart
The Cinema is a Community resource and is run by a voluntary Board of Directors on a not for profit basis and relies on audience support for all our events.
We are normally open from Wednesday to Sunday showing films . We also have a fully equipped stage for live events.
We are always interested in hearing from anyone who can offer assistance on a regular or periodic basis to cover for busy performances.
Download / Print the upcoming programme

Are you a regular Cinema-goer?
Make each visit even better by earning a free film ticket!
The Cinema Loyalty Card entitles the bearer to one free visit to watch a film for every 8 films where a ticket is paid for.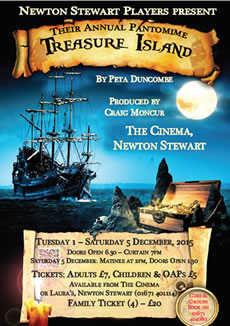 The Newton Stewart Players Present their Annual Pantomime
Treasure Island
Tuesday 1st to Saturday 5th December
By Peta Duncombe - Produced By Craig Moncur
Tickets: Adults £7, Children & O.A.P.s £5 - Family Ticket (4) - £20
Available from The Cinema or Laura's, Newton Stewart (01671 401114)
Cubs & Groups - Please Book on 01671 404080
Doors Open 6.30 - Curtain Up 7pm
Saturday 5th Matinee at 2pm - Doors Open at 1.30pm
Your Cinema Needs You
If you have an interest in films and all things cinematic and would like to contribute more fully in the running of the Cinema why not join us and become a Board Member. We welcome suggestions and ideas to ensure the continuing success of our wonderful Cinema. Please check out membership of the Board on the Company News page.
Showing Today
Showing: 18:00
Rating: PG - Parental Guidance
Stars: Hugh Jackman, Rooney Mara
Director: Joe Wright
Running Time: 111 minutes
Synopsis:
n an orphanage surrounded by other little boys, Peter isn't sure who he really is, until one day he and a friend stumble upon a letter from the mother who left him.



With this letter comes the realisation of his identity, and Peter soon finds himself swept away to the mystical realm of Neverland, where he encounters Blackbeard, as well as Tiger Lily, who tells him that he is even more special than he realises.



It is here that Peter comes into contact with James Hook, thus one of literature's most famous duos is born. In this magical land, and with so many uncertainties still left to plague him, can Peter figure out which path to take in order to fulfil his destiny?



As the new prequel to J. M. Barrie's timeless classic, Pan tells the story of what happened long before Peter visited the Darlings' house in London, and how he became the legendary Boy Who Never Grew Up. This film is a treat for anyone of any age, revealing the hidden truth behind some of the greatest characters ever created.